Hallolure™ Fire Pit Heavy Duty Round Patio For Outdoor Backyard
Home & Garden > Kitchen & Dining > Kitchen Appliances > Outdoor Grills
Package Included:1 x 22-inch Outdoor Patio Steel Fire PitItem Specifics:Brand: HallolureMaterial: Alloy SteelItem Dimensions LxWxH: 22x22x20 in/55.88x55.88x50.8cmItem Weight: 12.27 poundsAssembly Required: YesProduct Highlights:-Outdoor Wood Burning Round Steel Fire Pit-Durable steel with high-temp...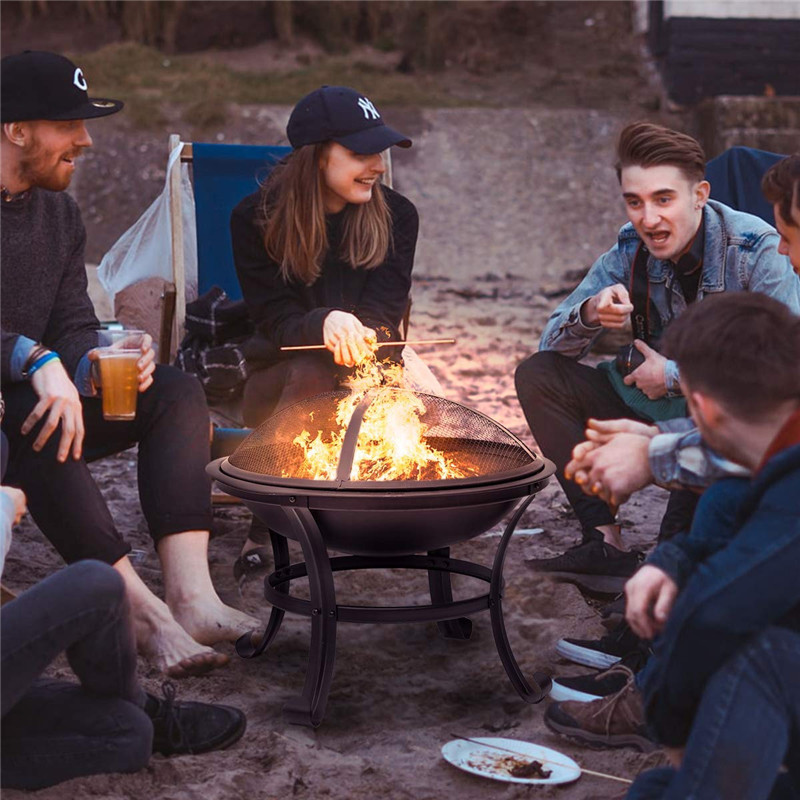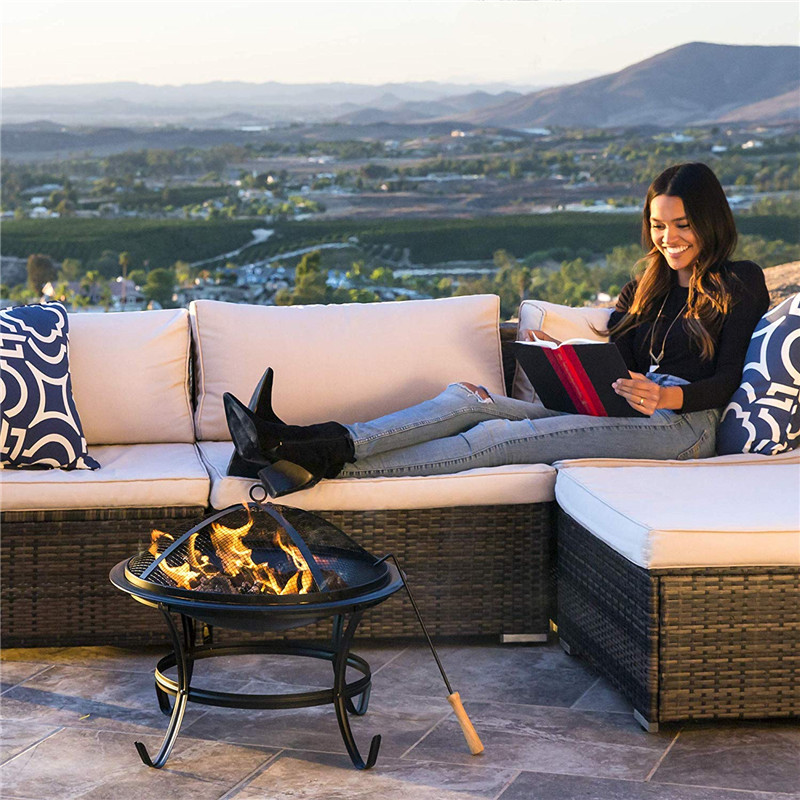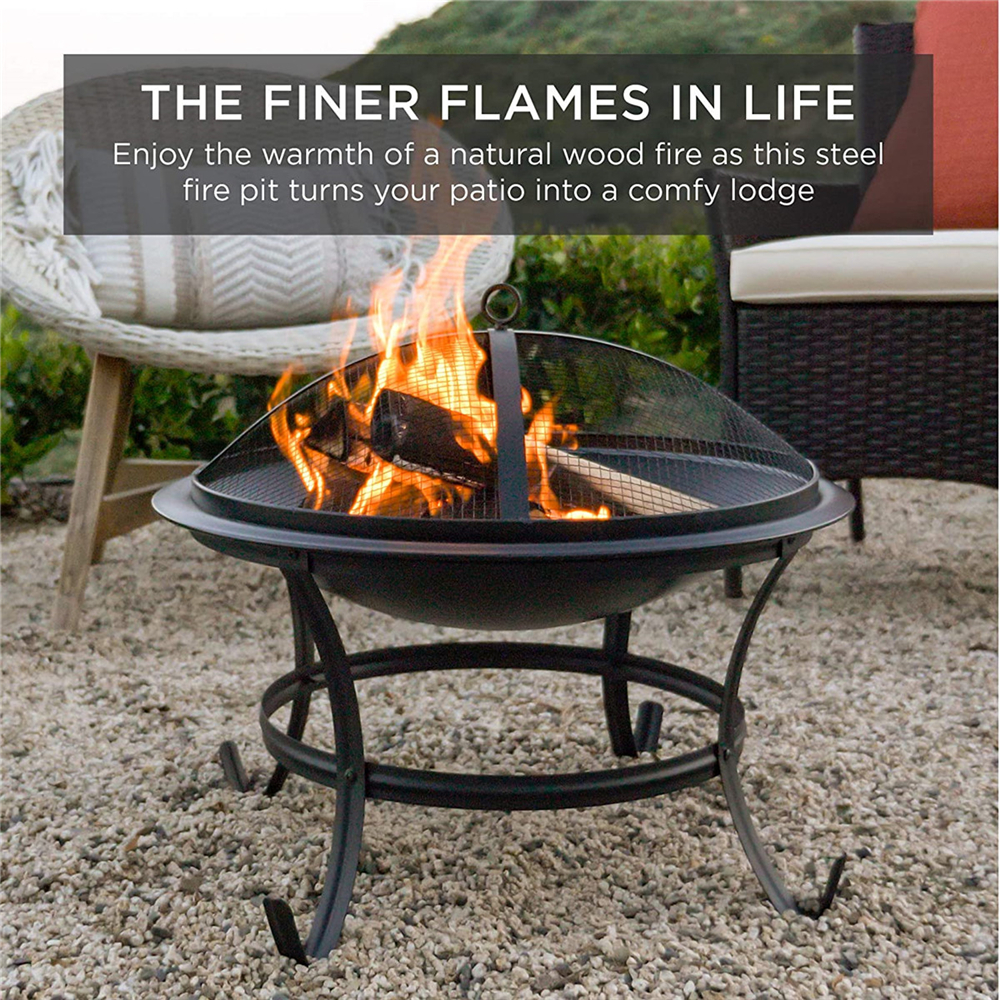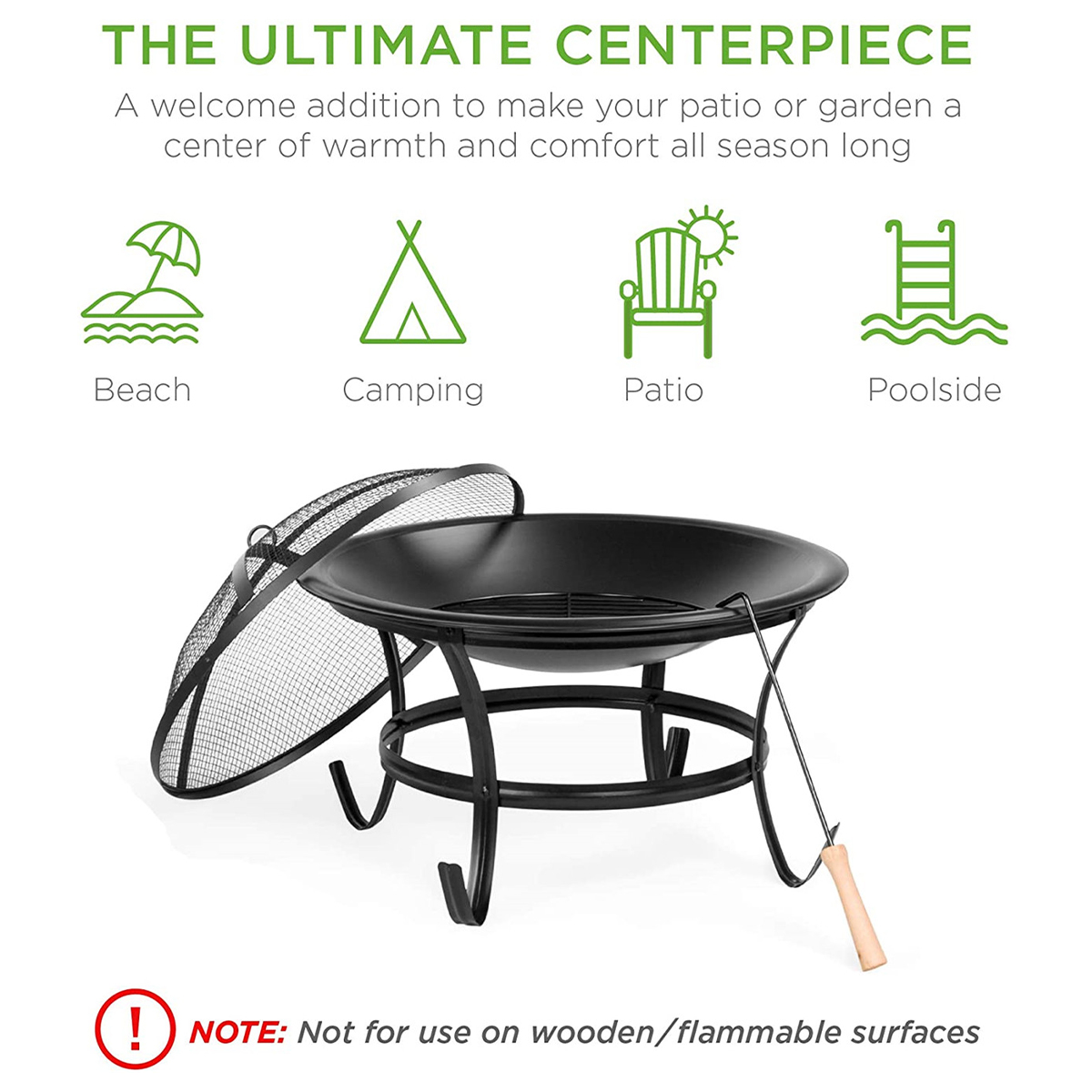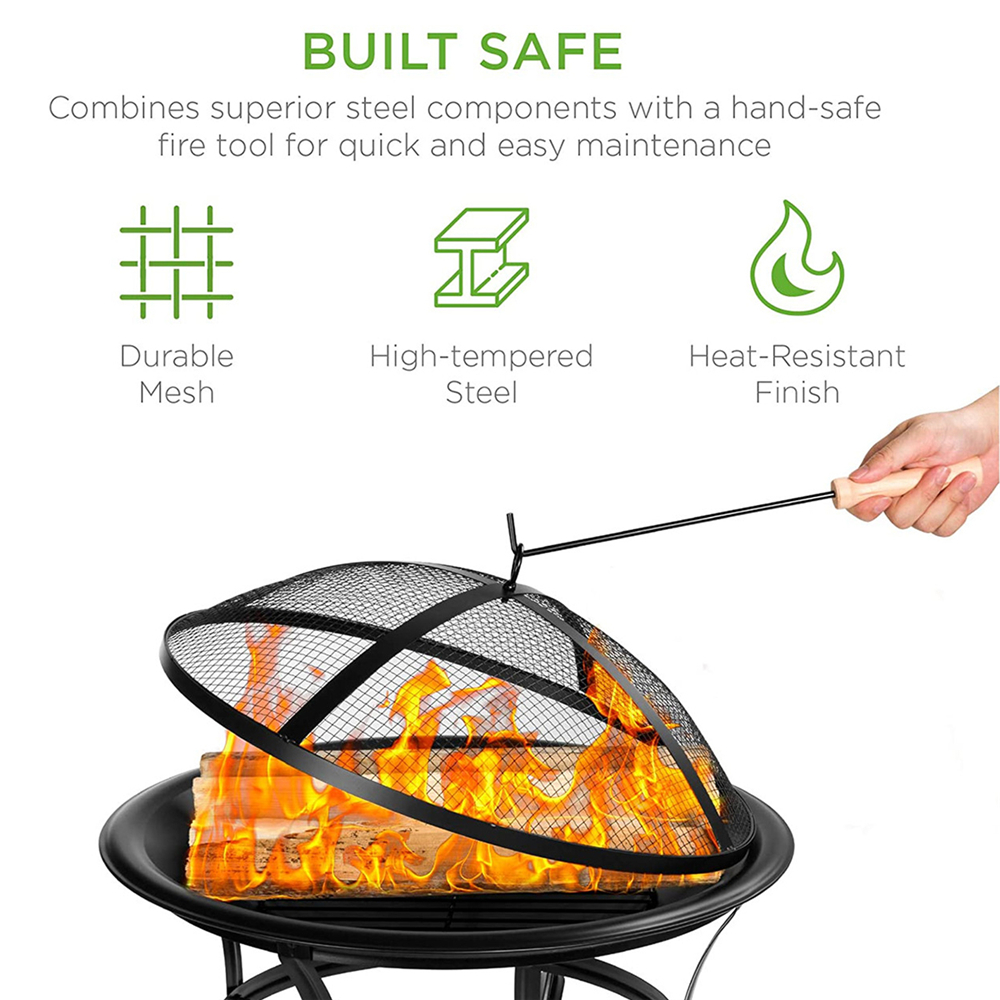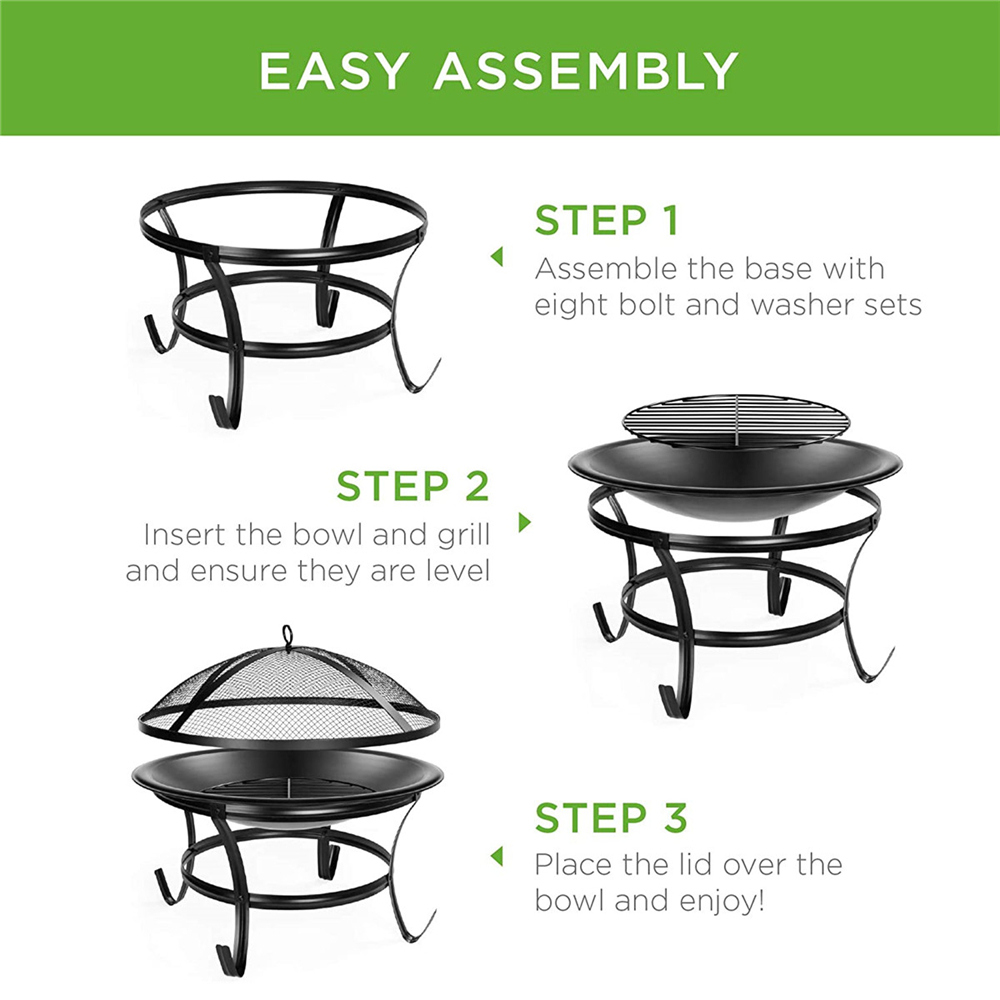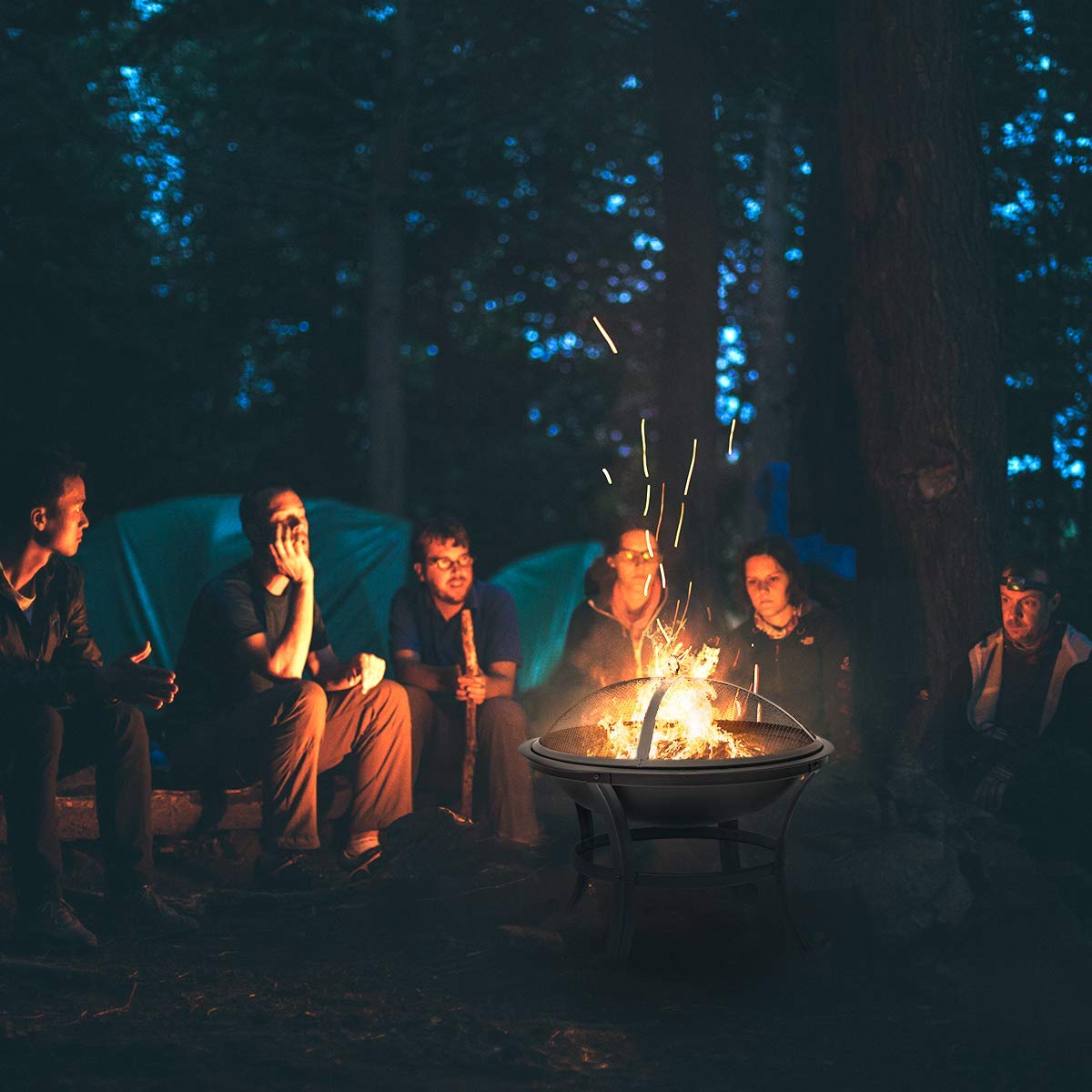 Package Included:
1 x 22-inch Outdoor Patio Steel Fire Pit

Item Specifics:
Brand: Hallolure
Material: Alloy Steel
Item Dimensions LxWxH: 22x22x20 in/55.88x55.88x50.8cm
Item Weight: 12.27 pounds
Assembly Required: Yes

Product Highlights:
-Outdoor Wood Burning Round Steel Fire Pit
-Durable steel with high-temp paint finish
-Spark screen included
-Built-in wood grate

Features:
-KingSo 22inch Round Wood Burning Fire Pit with Mesh Spark Guard:
-Round outdoor fire pit set with mesh spark screen,wood fire poker
-Includes domed mesh screen with ring handle for added protection against flying sparks
-Strong steel frame features high-temperature finish that resists rusting, blistering
-Adds warmth and ambience to a backyard or concrete patio
-Portable fire pit ideal for backyard use, camping, tailgates, and more
-Some assembly required using common household tools
-For outdoor use only; do not use on wooden decks
-Fire bowl intended to burn wood logs only
-Place chairs around the KingSo 22 inch Round Wood Burning Fire Pit with Mesh Spark Guard and gather your friends to enjoy hours of warmth and good company
-This unique design fire pit makes it an ideal choice for heating, barbecue and food in patio, garden and yard
Note:
1. The commonly used coating for braziers is 400 degrees high temperature coating. If the burning temperature exceeds 400 degrees, the paint will fall off easily.
2. The burned product will get rusty when exposed to rain or water. Try not to ice the drink immediately after burning.

ATTENTIONS:
-Please make sure the fire is out before storing it indoors.
-DO NOT RECOMMENDED TO BE STORED OUTDOORS AFTER USE.
-Keep kids and pets away from the fire pit and don't touch the hot fire bowl with your hands !!!
-If you and your families have a BBQ with the fire pit, please prepare a special BBQ shelf. The log grate can 't be used as BBQ shelf !!!
-It is a normal phenomenon that the paint of the fire pit peels off after the fire pit is used several times.
-In order to prolong the service life of the fire pit, please don't put ice or water into the fire bowl. This will lead to the rust of the fire bowl after a long time.

30-Day Return & Refund Guarantee
Undamaged products may be returned for a full refund for any reason within 30 days of the date the item was delivered to the designated shipping address. Once the returned item arrives back in hallolure's warehouse for inspection, the refund process will begin.
Email Us:
hallolure@hallolure.com
Shipping Rate:
Free shipping available - You don't have to pay shipping for all items at Hallolure.com. 
You can view the shipping fees on each product page and at checkout.
Shipping Time:
 

Shipping Method

Shipping Time

Costs

Standard Shipping 

(Fedex or UPS )

5-10 Business Days

(under normal circumstances)

Free-Order over 0
Ship from local warehouse:

 5

- 10 business days.  Due to the COVID-19, the shipping may delay.

It depends on where you are. Under normal circumstances, orders processed here will take 5-10 business days to arrive.On weekends or holidays , the delivery time may be delayed, please understand, thank you.

After receiving your order, we need 2-3 days to process the order (if out of stock products, we will contact you in time, please pay attention to the mailbox), 1-2 days for outbound, 2-4 days for shipping And delivery, so the total time to reach you is about 5-10 days.

Delivery details will be provided in your confirmation email. Thanks for waiting patiently.

 

Non-mailable Areas:

Dear customers,Delivery is available in most areas of the United States, except for the following areas.

our non-mailable areas in the United States include: Alaska, American Samoyed, Guam, Hawaii, Marshall Islands, Palau, U.S. Virgin Islands, Puerto Rico, American Armed Forces, European Armed Forces, Pacific Armed Forces.

 


How can I view my order status?
It is easy, after you placed an order log in your account using your email address.

In your hallolure account, you can see all the orders you made including full information: shipping address, shipping method, payment information also items ordered. You can also print an invoice by yourself.

When the status of your order is updated, It will also show in your account. The tracking number will be submitted to your account after we ship out your package. 

You also have access to your account setting and your address book. 
Need More Help:
If you have any questions, please contact us: 
Email: hallolure@hallolure.com
Phone: (+1) 3237397222
Company in US: 1035 N Todd Ave Azusa, CA 91702